Description
BOGO Wednesday – July 19, 2017 – Buy a peppermint 15ml and get a 10ml PastTense Rollon!
Buy one get one free Special – Today Only! (or get a bunch, no limit!)
Oh my gosh, this peppermint oil is one of my favorites, it puts a powerpack on potency.  One breath of this oil and all of your senses wake up! Peppermint oil is one of the first oils I became familiar with, and it is considered one of the most used oils. Yeah, strange right?  It is a driver, meaning it puts a power pack when applied on top of other oils.  Because of its very large list of uses, I cannot honestly think of one reason why anyone on the planet would choose not to have peppermint oil in their medicine cabinet!
Some of the most common peppermint oil uses & benefits include:
Reduces stomach aches
Soothe digestive issues
Freshens bad breath
Relieves headaches
Antimicrobial properties
Improves mental focus
Clears respiratory tract
Boosts energy
Releases tight muscles
Cost-effective natural solution to replace pharmaceutical drugs
Now the free oil, I will be honest, took a bit to get used to the aroma, because it includes cilantro, and that bitter smell, well I don't hate it, but it is not my favorite.  Everyone has a different take on this one, and most people I know absolutely swear by the power of this one. I don't get headaches much, and for those who do – this one is a must have in your toolbox.
PastTense® 
Tension Blend
To help ground and balance emotions, PastTense uses a fresh, cooling aroma that can ease stressful feelings and promote a sense of calm.
Part Number: 31350001
Size: 10 mL
Wholesale: $18.50
Retail: $24.67
PV: 18.50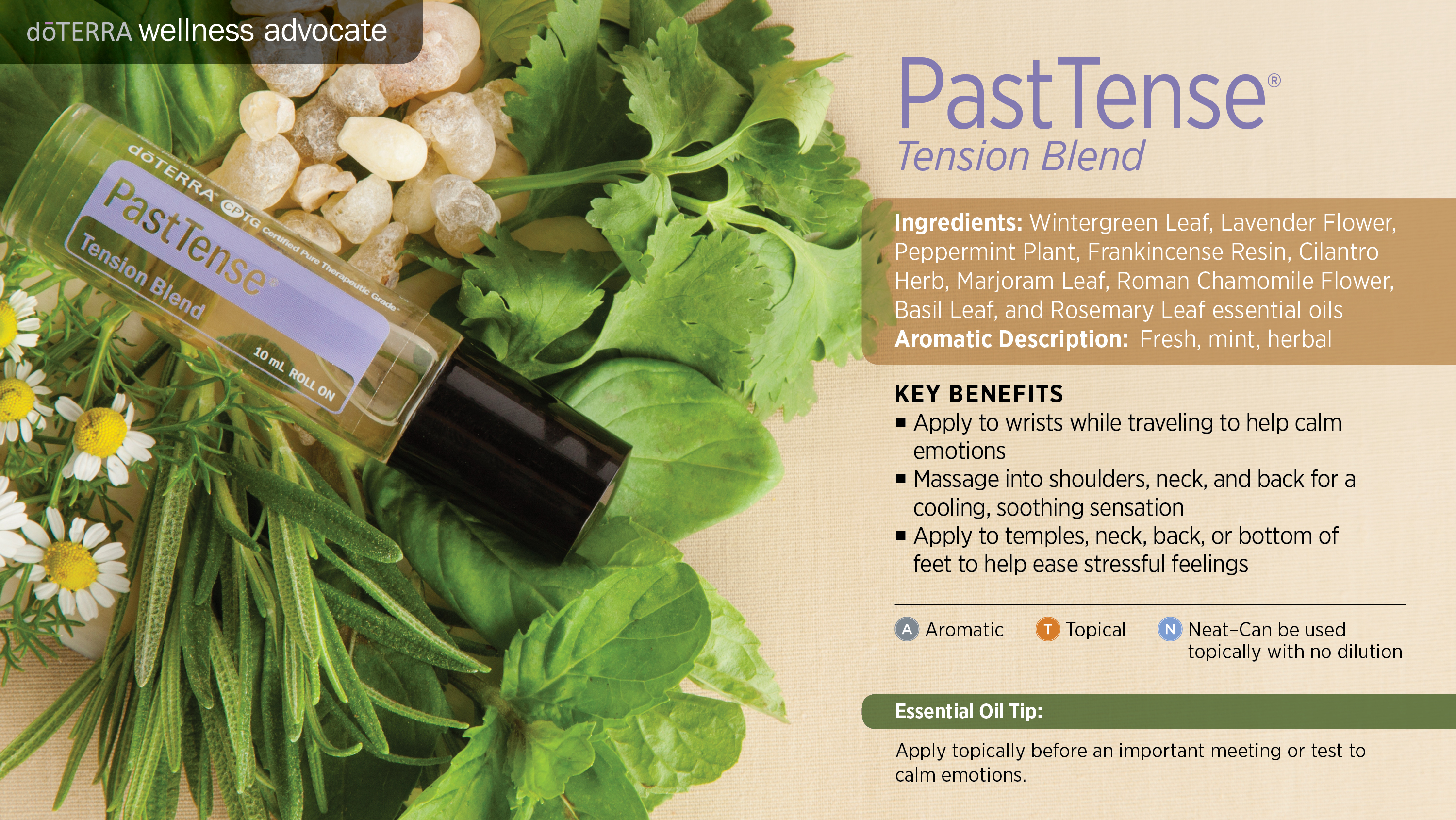 PastTense is a blend of essential oils known for their soothing effects on both the mind and body, the essential oils in PastTense quickly, promote feelings of relaxation and calm emotions. PastTense comes in a convenient 10mL roll-on for easy application when at work, school, or home. Simply apply to the neck, shoulders, or behind the ears to help calm emotions while breathing in the cooling, distinctive aroma of PastTense.
Uses
Massage into shoulders, neck, and back for a cooling, soothing sensation.
Add to temples and back of neck before taking a test or presenting in public.
Apply to the wrists while traveling to help calm emotions.
Directions for Use
Topical use: Apply to desired area. Dilute with doTERRA Fractionated Coconut Oil to minimize any skin sensitivity.
HOW DO YOU GET IT?   OFFER EXPIRES at 8:00pm

(I want to make sure I get the order in with doTERRA on time)
You can:
1. RETAIL: go onto my doTERRA website and order direct and ship it to your home direct, (min quantity is 5 per household)  https://www.mydoterra.com/liveloveessentialoils
2. I CAN ORDER IT FOR YOU – you order here on this website, and you then can get as many as you want- you will need to pre-pay on THIS website, and pick up at Print & Copy Factory after they arrive the following week.  I will actually order this at a wholesale price* 
3. You can sign up for your own WHOLESALE account, the cost is just $35 for the whole year, (like costco membership) and you will get your own account to order off of at anytime you want.  Contact me with questions!  to signup as a wholesale user or wellness advocate, click here:  https://www.mydoterra.com/liveloveessentialoils/#/joinAndSave
*** Two Pick-up Partys!! We're going to learn and explore all kinds of ways to use these BOGO oils from this week! We'll have make & takes, oil infused foods, lots of great stuff! Can't wait to see you there!
Thursday, July 27, from 6-8pm, at Cindy Brown's House, (call for address and RSVP) Off Britain Road, Bellingham
Friday, July 28, from 5:30-8pm, At Print & Copy Factory, 4055 Irongate Road, Bellingham WA 98226