WHY USE ESSENTIAL OILS?
Essential oils are naturally occurring, volatile aromatic compounds found in the seeds, bark, stems, roots, flowers, and other parts of plants. When the oils are extracted from the plants, they can be used as single oils or in oil blends to increase emotional and physical wellness. If properly extracted, essential oils have the unique ability to benefit people in all areas of life, whether in food preparation, beauty treatment, or healthcare practices. You will be amazed with the diverse ways essential oils can help you fulfill your and your family's needs.
Essential oils are both exciting and promising when it comes to taking care of your own and your family's health. Whether you're applying essential oils topically, enjoying the aromatic benefits through diffusing, or taking essential oils internally, the positive, healthful effects of essential oils are boundless. That's why you'll want to ensure that the essential oils you are using are capable of delivering on their promise. You'll want to make sure that you are choosing essential oils for their purity and their potency.
---
the dōTERRA Story
doTERRA, a Latin derivative meaning "Gift of the Earth", was founded in 2008. doTERRA was built on the mission of sharing therapeutic-grade essential oils with the world. Having seen for themselves the incredible benefits that can be had from using these precious resources, a group of healthcare and business professionals set out to make this mission a reality.
doTERRA's main commitment is to lead a new standard of therapeutic quality: CPTG Certified Pure Therapeutic Grade®. Establishing a standard of quality in an industry that had never had one, it wasn't enough to simply provide essential oils to homes around the world; the doTERRA founders were committed to providing only the highest quality and purest essential oils so that families could know with surety that they were using only the best to promote health and wellness for their loved ones.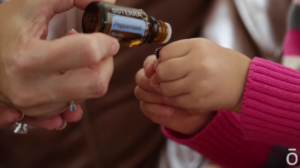 In order to best facilitate personal essential oil experiences, doTERRA utilizes a direct selling model that allows distributors to work with customers as opposed to mass marketing. Sharing essential oils is a unique experience, and the founders of doTERRA recognized that a sales model just as unique would be needed. This more individual approach allows individuals to experience for themselves the incredible power of essential oils while also developing relationships of trust. This model also created the opportunity for individuals and families to achieve their dreams of financial independence. There are around 3 million Wellness Advocates, now use and sell doTERRA products around the world.
The first offering of doTERRA essential oils included 25 single oils and 10 blends and was introduced for sale on April 15, 2008. Since that time, the doTERRA product offering has added many more single oils and oil blends as well as nutritional, spa, and healthy living products based on essential oil technologies and a comprehensive wellness philosophy. Of course, that offering couldn't be possible without a Global Botanical Network of artisans and distillers. As doTERRA has become a trusted partner in the essential oils industry, it has also been able to help communities improve their own economic futures through its Co-Impact Sourcing® model and the doTERRA Healing Hands Foundation™.
Based in a state of the art facility in Pleasant Grove, Utah, doTERRA continues to work toward achieving its vision of providing all families everywhere with the health-promoting benefits of essential oils.