Description
doTERRA® Lifelong Vitality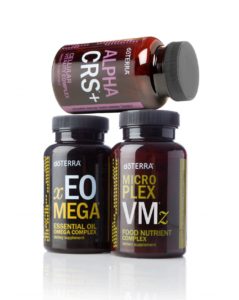 (see a video with doTERRA owner Emily Wright at bottom of page)
Every time I take a deeper look at learning about these supplements, I am always amazed at the depth and quality of the loved LLV. Yes, I was very, very skeptical at first, thinking, oh great another MLM company with their own vitamins. Well, these in fact are a whole pack of life bottled up. Watch Emily Wright's video below, introducing a program of wellness challenge that was in April of 2018. She goes through the history of how the product came to life, and what is in them and why they are so amazing. And I can say for myself, yes, they are amazing and I know understand why they are the #1 selling product that doTERRA has.
The three core products of the doTERRA Lifelong Vitality Program— Alpha CRS® +, xEO Mega ®, and Microplex VMz® —are formulated to provide you with targeted levels of essential nutrients and powerful metabolic factors for optimal health, energy, and longevity.* Our lifelong health and vitality depend on many factors including diet, physical activity, weight management, rest, stress management, exposure to toxins, and inherited a genetic predisposition for disease or wellness. While some of these variables are beyond our complete control, breakthrough scientific research is revealing many ways we can influence—and even control—significant factors of aging and wellness. A long life full of vitality and healthy aging begins with providing your cells with essential nutrients and metabolic factors to help them perform optimally.
DOWNLOAD PDF for full details of the LLV
LOOK, FEEL, AND LIVE YOUNGER, LONGER The do-TERRA® Lifelong Vitality Program makes taking the first step on the path toward a lifetime of vitality and wellness convenient and affordable.