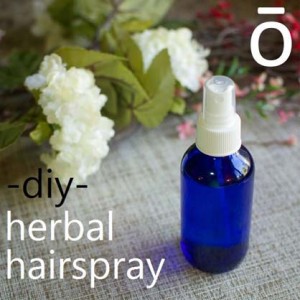 Making your own hairspray is easy with essential oils and only takes a few simple ingredients you already have at home. It can easily be customizable to your favorite essential oils and to your preferred hold.
What You Need:
1 cup water
4 teaspoons sugar (use more or less depending on how strong you want the hold to be)
2 drops Geranium essential oil
2 drops Lavender essential oil
2 drops Peppermint essential oil
2 drops Rosemary essential oil
2 drops Clary Sage essential oil
8-ounce glass fine mist spray bottle
Note: The essential oils used in the recipe were chosen because they have benefits that have shown to help your hair and scalp. Feel free to customize the essential oils to your preference. You can use one of all of the essential oils listed above. However, be careful using citrus oils as they can lighten your hair if exposed to UV light.
Directions:
In a saucepan, combine sugar and water. Bring heat to boil and stir until sugar is dissolved. Remove from heat and cool.
Pour essential oil into glass bottle.
Pour cooled sugar water into glass spray bottle. You're done! Use as you would any other hairspray.
dōTERRA essential oils can be purchased online, or you can come to one of our classes, contact me at 360-318-3070.  
*These statements have not been approved by the Food and Drug Administration. dōTERRA products are not intended to diagnose, treat, cure or prevent disease. Pregnant or lactating women and persons with known medical conditions should consult a physician prior to the use of any dōTERRA product. The statements shared from our Facebook page are the personal opinion of independent persons and do not necessarily reflect the views or opinions of dōTERRA International.
– See more at: http://doterrablog.com/diy-herbal-hairspray/#sthash.66PCtXvZ.dpuf