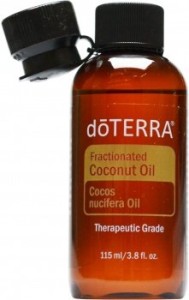 Fractionated coconut oil also called "liquid coconut oil," fit our requirements. Basically, it is a form of the oil that has had the long-chain fatty acids removed via hydrolysis and steam distillation. Just this one change makes the oil liquid at room temperature, and extends the product's shelf life.
The oil is very light, colorless, odorless, and smooth. Despite being an oil, fractionated coconut oil lacks the greasy feel of other oils, meaning that it can be applied and massaged into the skin without leaving behind an uncomfortable residue. This type of oil can also be applied to the skin without clogging the pores, making it an excellent choice for anyone who wants to avoid aggravating or creating skin problems, and making it safe to apply to the face.
Because of its light, smooth texture and versatile properties, fractionated coconut oil makes the perfect base for any essential oil. It is used primarily when the essential oil is going to be used in any direct application to the skin, such as when the oil is going to be used in a massage. Fractionated coconut oil is a useful base for these oils, because when the oils are added to it, they are diluted, thereby minimizing any allergic reactions the skin might otherwise have had to the undiluted essential oil. In addition, it can be applied to the area where there is an allergic reaction occurring to soothe the irritated skin. Because it can be used to dilute essential oil, it makes those oils last longer and transforms the oil into an excellent massage substance. Due to its excellent properties, the coconut oil applies the essential oils without a greasy feel and without hindering the aroma of the essential oil.
In addition to being combined with essential oils, fractionated coconut oil can also be used on its own. For instance, it can be added to the hair to give it a shinier appearance, or applied to the skin as a moisturizer. It can be used as an excellent diaper cream to fight diaper rash, as a makeup remover, and as an aftershave lotion. When combined with certain essential oils, it can also help to create useful products such as an insect repellant. Because of its versatility, texture, and appearance, fractionated coconut oil makes an ideal addition to anyone's essential oil collection.
Other Common Names: Liquid coconut oil
Source(s): Coconuts
Other Ingredients: Lauric acid, caprylic acid, capric acid, caproic acid
Uses:  Blend with essential oils as a carrier oil, for DIY roller bottles, sprays, massage bases.
• Feather-light emollient provides a soothing barrier without clogging pores
• Ideal for combining with essential oils for topical therapies
• Completely soluble with all essential oils; odorless, colorless, and non-staining
Wholesale  Price  $12.00   / PV 12
Retail $16.00