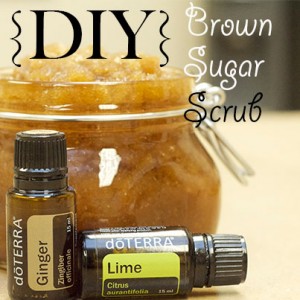 I found this recipe and thought how awesome is this for fun little DYI gifts for this holiday season!  Make this easy DIY Ginger Lime Brown Sugar Scrub to help exfoliate and soften your skin. Use 1-2 times a week on hands, feet, legs, or arms.  With fun and creative Jars (make sure that they seal tight), you can make this a very special accent for the bathroom.
What You Need:
1/4 cup brown sugar
1/4 cup turbinado sugar
1/2 cup Fractionated Coconut Oil
10 drops Lime essential oil
5 drops Ginger essential oil
Note: Turbinado sugar is a large grained sugar that helps with deep exfoliation. If you don't have turbinado sugar, you can use all brown sugar.
Directions:
1. Combine brown sugar, turbinado sugar, Fractionated Coconut Oil, and essential oils into bowl.
2. Stir until well combined.
3. Store in airtight container.
4. To use, apply a small amount to hands and scrub for 30 seconds or until sugar dissolves. Rinse with warm water and pat dry. For extra soft skin, apply  dōTERRA's Hand and Body Lotion. Use as needed.