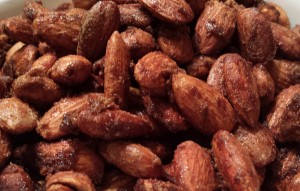 It's that time of year! The holidays will be here soon and what a yummy gift idea to package up and give Cinnamon Almonds!  These almonds would be great in salads too!  Consider trying other types of nuts too, and maybe trying other oils, such as doTERRA Wild Orange or doTERRA OnGuard.
INGREDIENTS
2 egg whites
6 tspn vanilla
4 cups almonds
1/3 cup sugar
1/3 cup brown sugar
1 tsp salt
½ tsp ground cinnamon
1 drop doTERRA Cinnamon or Cassia essential oil
DIRECTIONS:
In a large bowl, beat egg whites until frothy and beat in vanilla and essential oil.
Add almonds and stir gently to coat.
Combine the sugars, salt and cinnamon.
Add to nut mixture and stir gently to coat.
Spread evenly into two greased cookie sheets.
Bake at 300° for 25-30 minutes or until almonds are crisp, stirring once.
Cool and store in an airtight container – if there are any left after the cooling process.