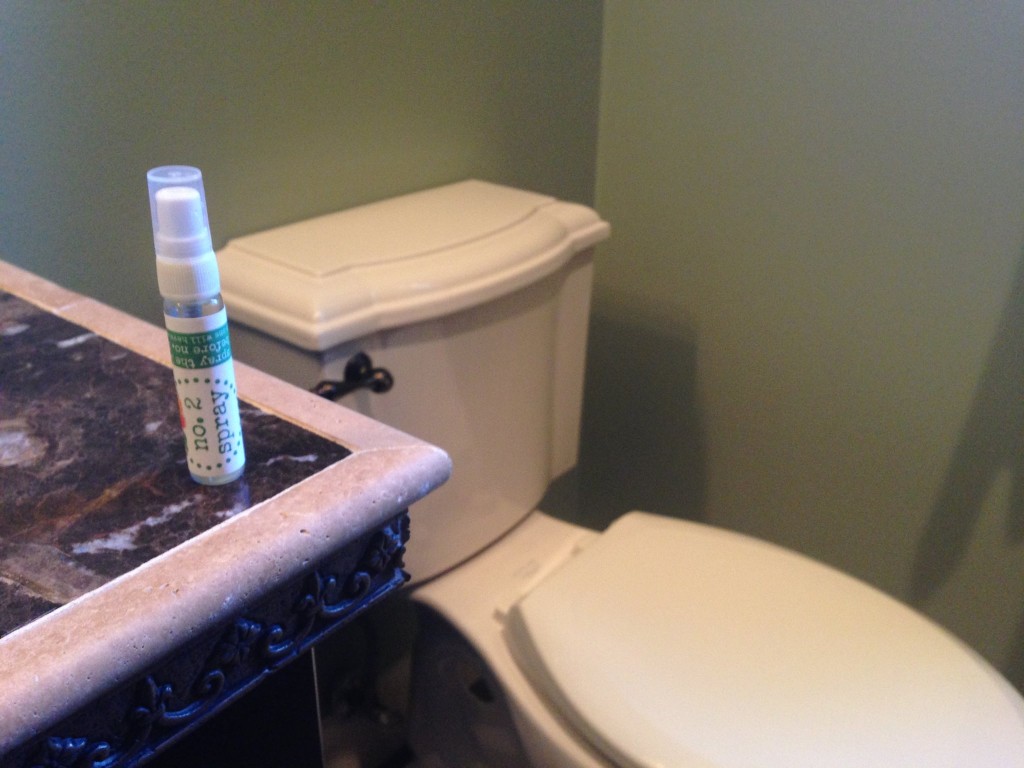 Last week Larry and I attended our upline Cindy Brown's Product class, and it was loads of fun, I never laughed so hard about the "#2 business".   We made a bathroom spray, and it is so simple and so inexpensive you can't believe it actually works!  All you do is spray the mixture on the bowl of water, and it creates an oil film on the top of the water and seals in the smell…  Have fun with it, make some for work, your purse, and each bathroom in the home!
Depending on how much you want to make and how many spray bottles you have, you can adjust the recipe accordingly. It is really simple and not really a science of measurements. You really don't need that many drops of oils.
Here are instructions for 3 oz spray:
DYI: "Poo-Pourri" or "#2 Spray"
Recipe Type
:
DYI Bathroom Spray (#2 Spray or PooPourri)
Author:
Prep time:
Total time:
Make this in a spray bottle for all of your bathrooms, your purse and for your kids to use at school. This will help prevent those embarrassing moments, and that prevent us to having healthy bowel movements. Simply spray into the toilet before using, it in a way holds/seals the #2 smell in the water. After doing your business, then the action of flushing the toilet helps promote the essential oil scent into the air, leaving the essential oil scent not the #2!
Ingredients
2-4 cups of pure water
1 tsp Alcohol (rubbing alcohol or even vodka works)
20-40 drops your favorite essential flavor oil of choice. (Citrus has a nice clean scent)
Spray bottles (small sizes for purse and 2-4 oz size for bathrooms)
Fun labels
Instructions
Pour a small bit of rubbing alcohol in a small glass spray container and add a few drops of essential oil of your choice, then fill up the rest with water. The alcohol keeps the oils from separating from the water in the spray bottle, so you don't have the shake it as much before each use.
Notes
Here are some combinations recommended by a fellow essential oil fanatic![br][br][b]COMBINATIONS:[/b][br]• Bergamot + Lemongrass + grapefruit[br]• Spearmint + Eucalyptus[br]• Sandalwood + Lemon + Lavender[br]• Eucalyptus + Peppermint + Lavender[br]• Peppermint + Lemon