The Amazing and the "SUNSATIONAL FLAVORS" of Spearmint, Cumin, Tangerine, and Dill!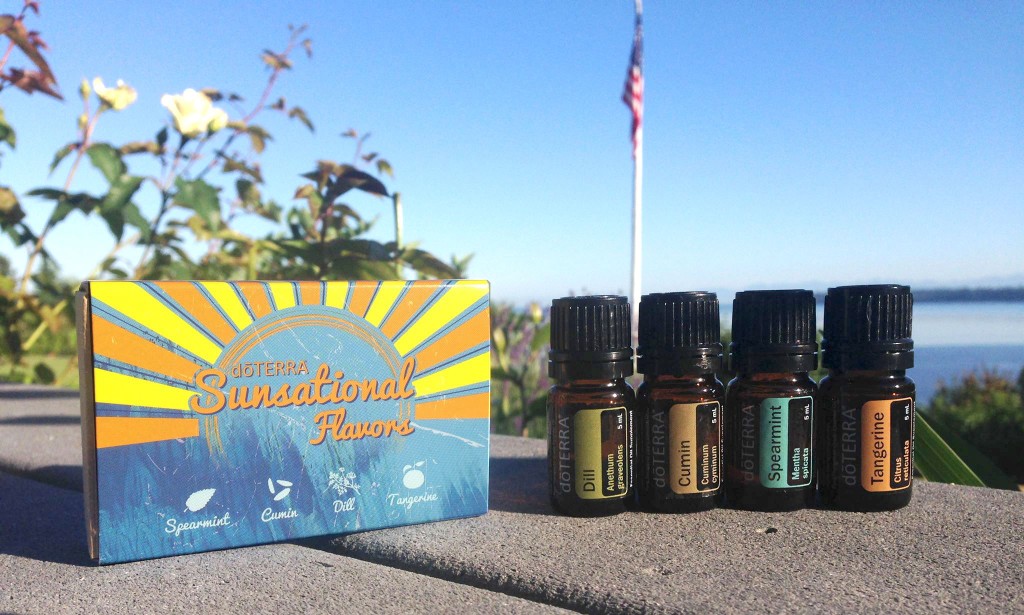 From antioxidants for assisting your body with building immunity to digestive health and tummy relief, these four oils have some wonderful benefits and a wide variety of uses.
These oils are are only available during the summer time:
https://www.mydoterra.com/liveloveessentialoils 
---
TANGERINE:
This is absolutely my most favorite oil. It is fun, loud with flavor and powerful properties:
BENEFITS:
Excellent source of antioxidants.
Soothing and relaxing.
Cleansing and purifying.
Supports your body to build a healthy immune system.

USES:
Add as a flavoring in baking such as cake and cookie recipes!
Add 1-2 drops in drinks and smoothies for flavoring and digestive benefits.
To boost energy and uplift mood, pace 1-2 drops in the palm of your hand, rub together, and cup over the nose and mouth for 30 seconds or diffuse throughout the room.
Take internally (in a capsule perhaps) to help with water retention.
---
DILL:
BENEFITS:
Supports digestion and overall GI health.
Provides powerful antioxidant benefits.
Helps your body with purifying toxins.
USES:
Diffuse with Bergamot and lemon to lessen stress and anxious feelings.
Use when canning to help preserve vegetables.
Add to marinades, soups and salads to enhance flavor and promote digestion.
Add to herbal tea before bedtime to promote restful sleep.
Combined with black pepper, Dill can be applied to the bottoms of the eet to help balance appetite.
Apply diluted Dill to writes to help overcome sugar addiction.
Help stop hiccups by applying diluted Dill along the jawline.
When used with Roman Chamomile, it can help people focus.
---
CUMIN:
BENEFITS:
Popular spice used in dishes around the world.
Promotes oral health.
Supports digestive health; helps relieve digestive discomfort.
Purifying ot the body's systems.
Promotes a healthy inflammatory response to normal stressors.
USES:
Dilute with Fractionated Coconut OIl and apply to stomach for occasional digestive discomfort.
Add 1-3 drops to stews, soups, and curies for a spicy flavor and to promote digestive health.
Dilute and apply to areas of concern to promote healthy circulation.
Add a drop to 4 oz of water; gargle to promote oral health.
---
SPEARMINT:
BENEFITS:
Supports healthy respiratory function
Provides a refreshing aroma that clears the mind and uplifts mood
Promotes oral health
Promotes digestion and helps reduce occasional stomach upset
USES:
Diffuse to promote focus and uplift mood.
Apply to toothbrush before brushing teeth for healthy gums and fresh breath…or use as a mouthwash (drop of oil in water)
Add a drop or two to any dessert, drink, salad, or entree for flavoring and to promote digestion.
For occasional stomach upset, add 1-2 drops to water and drink. Apply to the back of neck (and diffuse) of headache relief.