Welcome to our Immune Challenge!
Get ready for "Back To School" or ready to take a trip, or just overall help support your health.
This challenge, we decided to introduce a different product every day, to help you become familiar with protocols. We are suggesting to build up and use these recipes ongoing throughout seasons, throughout the years.
Day 1 – Oregano Touch doTERRA Essential Oil
Day 2 – Copaiba doTERRA Essential Oil
Day 3 – OnGuard / OnGuard Plus doTERRA Essential Oil Blend
Day 4 – Life Long Vitality (LLV) Supplements
Day 5 – DigestZen doTERRA Essential Oil Blend and Capsules
Day 6 – doTERRADigestZen PB Assist +DigestZen Enzymes
Day 7 – Breathe doTERRA Essential Oil Blend
---
Day 1 – Oregano:

Kids & Adults both love to have their feet embraced in a warm moist towel.  The Oregano Touch is a terrific addition to boosting the immune system prior to the new school year and change in season where we tend to see our immunity decline due to lack of Vitamin D and more time indoors.

Oregano Foot Wrap
Recipe Type
:
Immune Boost
Instructions
Oregano touch mixed with extra FCO if desired.  Massage into feet for 5 mins then get a warm moist bath towel and wrap feet and ankles. Cover with a dry bath towel and sit until towels cool.
---
Day 2 – Copaiba:
Immune Challenge Tea
Recipe Type
:
Tea for Sipping
Onguard and/or Copaiba
1 Tsp Honey
1-2 cups Hot/Warm Water
Instructions
+Sip tea.  1 drop Copaiba or Onguard  in 1 tbsp Honey mixed in a cup of extra warm water – boiled then cooled a little before adding copaiba or Onguard.  This could even be added to Bulletproof coffee or an herbal tea or you can drink it alone.
Immune Challenge Facial Care
Add copaiba to your facial care routine (anti-aging moisturizer, hydrating cream. The oil helps reduce the inflammation in the cells allowing your skin to glow and also boost the immune system from our largest organ- the skin. Added benefit- copaiba reduces the appearance of blemishes. Add copaiba to shampoo and conditioner to give your scalp & brain an added boost. Oleoresins act as a neuroprotective.
Immune Challenge Toothpaste
+Add a drop of Copaiba to your Onguard Toothpaste or Add a drop of copaiba when Oil Pulling.  Copaiba is a terrific oil for oral health.
---
Day 3- OnGuard Essential Oil Blend and its list of amazing product line:
doTERRA On Guard Products
If you don't have doTERRA On Guard in your home right now, you are really missing out. This is one of doTERRA's most popular essential oil blends due to its versatility and its ability to defend the immune system.* Over the years, doTERRA has expanded their doTERRA On Guard product line, which has enabled more at-home and on-the-go uses of the doTERRA On Guard essential oil blend:

doTERRA On Guard® Beadlets These small, dissolvable beadlets are filled with the doTERRA On Guard essential oil blend and come in a small vile, making it easy for carrying. doTERRA On Guard Beadlets help freshen breath and support healthy immune and respiratory function wherever and whenever you want.*

doTERRA On Guard®+ Softgels Conveniently encapsulating doTERRA On Guard essential oil blend and Melissa, Oregano, and Black Pepper essential oils, doTERRA On Guard+ Softgels are powerful dietary supplements that can be taken internally to support healthy immune and respiratory function as well as the body's natural antioxidant defenses.* These supplements can also be used to promote healthy circulation.* When seasonal threats are high, doTERRA On Guard+ Softgels can help maintain healthy immune function.* I personally take mine before bed so my body can reset.  Our immune system is functioning the highest at night. This would be a good time to show your nighttime routine with Onguard Plus beside your bed- the diffuser diffusing OnGuard oil.   

doTERRA On Guard® Cleaner Concentrate Take a look at your home cleaning supplies ingredient list, and switch over to natural cleaners that are amazing! This product makes the ideal natural cleaner. Infused with the doTERRA On Guard essential oil blend, it offers a safe, non-toxic alternative to toxic cleaners and provides natural protection against certain environmental factors while helping eliminate odors. This cleaner has an invigorating aroma and can be used to clean hard surfaces in the kitchen, bathroom, or any room that could benefit from its cleansing effects. Detoxing the home is a great start of preventing toxicity to our bodies.

doTERRA On Guard® Foaming Hand Wash Different from other commercially branded hand washes, doTERRA On Guard Foaming Hand Wash is a gentle cleanser using doTERRA On Guard to clean and soften hands throughout the day without irritating or drying sensitive skin. This hand wash gives off a spicy and citrus scent and is pH balanced to protect the delicate moisture barriers of the skin.

doTERRA On Guard® Laundry Detergent This natural-based detergent is free of synthetic fragrances, dyes, and toxins. It contains a combination of doTERRA On Guard essential oil blend and bio-originated enzymes that work together to lift stains and leave clothes smelling, looking, and feeling clean. This laundry detergent is color safe for washable fabrics at all temperatures and can do up to 64 loads.

doTERRA On Guard® Natural Whitening Toothpaste Natural and fluoride-free, the doTERRA On Guard toothpaste contains the doTERRA On Guard blend along with other natural ingredients that help clean and whiten teeth while freshening breath. The hydrated silica in the toothpaste is a natural abrasive that helps remove plaque and tooth stains, but is also gentle and does not damage tooth enamel. doTERRA On Guard Natural Whitening Toothpaste has a fresh, cinnamon and mint flavor.

doTERRA On Guard® Natural Whitening Toothpaste samples These samples come in a convenient package with 10 sample size packets of doTERRA  On Guard Natural Whitening Toothpaste. You can easily share these packets with others so that they, too, can experience the natural benefits of doTERRA's toothpaste. These samples are also ideal for traveling and can easily be stored in a purse, backpack, suitcase, or briefcase for on-the-go use.

doTERRA On Guard® Protecting Throat Drops doTERRA On Guard throat drops offer a convenient way to receive the immune-supporting benefits of the doTERRA On Guard essential oil blend and can aid in strengthening the body's defenses. Individually wrapped, these drops contain no added artificial flavors and colors and are great for helping soothe dry and scratchy throats.
Immune Challenge Onguard Hand Sanitizer
Hand sanitizers are a convenient, on-the-go solution for cleaning your hands when soap and water are unavailable. Today, traditional hand sanitizers contain isopropyl or ethyl alcohol. These ingredients can be harmful, especially if accessible to unsupervised children. Most hand sanitizers contain between 60 to 90 percent alcohol, which is enough to cause alcohol poisoning if ingested. According to CNN2 ounce of bottle of hand sanitizer may contain as much alcohol is four shots of vodka. Yikes! The alcohol in hand sanitizers can also be a fire hazard, cause severe skin and eye irritation, and be extremely drying to the skin.
There is a very simple solution to this problem–make your own alcohol-free hand sanitizer with only a few ingredients. This homemade version will not only sanitize your hands but moisturize them too.
Ingredients
1.5 Tablespoons Aloe Vera Gel
4 Tablespoon Water
1/4 teaspoon Vitamin E oil
8-10 drops On Guard Protective Blend
DIRECTIONS:
In a bowl combine Aloe Vera Gel and Vitamin E oil.
Add 8-10 drops of On Guard Protective Blend to the Aloe Vera mixture.
Add water and mix well to combine. Add more or less water depending on the consistency you want.
Pour into a container and you're done! Put your homemade hand sanitizer in your bag, car, or office for an effective, alcohol-free hand sanitizer.
Small Squeeze Container Note: Essential oils can be stored in plastic containers if the essential oils are highly diluted.
CONSIDER: making this into an Onguard Sanitizer mist spray, and use it on Public Toilet seat before using it +Spray down the lunch table at school or work before eating
If the public bathrooms only have hand dryers – wash hands then spray OnGuard Hand
Sanitizing Mist on to further clean and encourage drying of the hands.
Immune Challenge Onguard Apples
Recipe Type

:

Food Recipes
Ingredients
2-3 apples of choice (organic is best)
1 large bowl
1 drop of OnGuard Essential Oil for every apple
1 drop of Lemon Essential Oil for every apple
water
DIRECTIONS:
Fill bowl with enough water to cover the number of apples you will be slicing. To the water, add one drop of OnGuard Essential Oil and one drop of Lemon Essential Oil for every apple you will be using, set aside.
Slice apples as desired and place in water. Allow to sit for 10-15 minutes before removing onto towel lined plate, patting to remove excess water. Enjoy right away or store safely until ready to eat.
Immune Challenge – Onguard Blackberry Muffins
Ingredients
1¾ c. all purpose flour (or an equal amount of almond flour)
1 tbsp. baking powder
3 tbsp. sugar
½ tsp. salt
2 beaten eggs (or 2 tbsp. ground flaxseed soaked in ½ c. water)
¾ c. milk (or unsweetened almond milk)
2 tbsp. melted butter (or vegetable oil)
3-4 drops DoTerra On Guard essential oil
1 c. fresh blackberries
1 tbsp. raw cane sugar (optional)
DIRECTIONS:
Preheat oven to 375.
Combine flour and baking powder… some people sift- I just fork it up until its well combined.
Add sugar to the dry mix too and stir it up.
In a separate bowl beat eggs, milk, butter (or alternatives) and essential oil all together until well incorporated to each other.
Add wet to dry and mix just until combined.(can still be a few specks of white flour lingering).
Fold in blackberries gently.
Grease your muffin tins or line them. I like to grease with butter.
Spoon batter evenly into tins until they are all about ¾ full.
Bake at 375 for 18 minutes or until the top edges are just turning golden brown.
Sprinkle with the raw cane sugar as soon as you remove from oven while they are still piping hot.
Pop them out after they cool!
DAILY USE TIPS:
+Put a drop of OnGuard on your toothbrush after you use it to clean it.
+Oil Pulling with OnGuard
+Make a honey bomb (OnGuard + 1 spoonful of honey mixed)
---
Day 4 – LifeLong Vitality (LLV) Supplements
These supplements are doTERRA's #1 selling product because of the foundation it provides.  The rule of thumb here is to put this product on your LRP, using it consistently, your immune system will benefit.  We take two of each in the morning and two of each in the evening. Each set is a months supply for one person.
---
Day 5 -DigestZen Essential Oil Blend
DigestZen is well known for its ability to aid in digestion, soothe occasional stomach upset, and maintain overall digestive health when taken internally.* This unique blend contains Ginger, Fennel, and Coriander to help ease occasional stomach discomfort, including motion sickness and indigestion, while Peppermint, Tarragon, Anise, and Caraway aid with digestion and help maintain a healthy gastrointestinal tract.* DigestZen is great to have on hand when stomach upset occurs and is safe and effective. Internal use of DigestZen is a healthy, natural, and gentle way to soothe an upset stomach or maintain a healthy digestive system.*
Add a few drops to water to take internally.*
Rub on the stomach before flying or taking a road trip for a calming aroma.
Take DigestZen internally when traveling or trying new foods to soothe occasional stomach upset.*
Add to water or tea to maintain a healthy gastrointestinal tract.*
Primary Benefits
Supports healthy digestion when used internally*
Consume to soothe occasional stomach upset*
Take orally to help reduce bloating, gas, and occasional indigestion*
---
Day 6 –DigestZen PB Assist +DigestZen Terrazyme
PB Assist+ is a great supplement to take daily.  This is my most favorite product that doTERRA offers and is a quiet queen to our gut health.
PB Assist+ is a proprietary formula of pre-biotic fiber and six strains of probiotic microorganisms in a unique double-layer vegetable capsule. The time-release, double-capsule delivery system is designed to help protect the sensitive probiotic cultures from stomach acid.
PB Assist+Primary Benefits
Promotes a positive balance and proliferation of beneficial bacteria*
Maintains healthy intestinal microflora balance*
Supports healthy functioning of the digestive and immune systems*
Supports the health of the GI tract, particularly the intestines and colon*
Helps support optimal metabolism and absorption of food*
The body's production of enzymes is often enough, though the constant need to produce digestive enzymes can result in decreased levels that lead to digestive and other problems, especially as we age. Fresh, raw foods naturally contain enzymes that may contribute to proper digestion in the body. Since many of the foods found in a typical diet are cooked, pasteurized, or otherwise processed, food enzymes can become inactive. You can help reduce the internal demand for production of digestive enzymes by increasing consumption of fresh foods and by using DigestZen Terrazyme®.
DigestZen Terrazyme Primary Benefits
Supports healthy digestion and metabolism of enzyme-deficient, processed foods*
Supports conversion of food nutrients to cellular energy*
Promotes gastrointestinal comfort and food tolerance*
Supports healthy production of metabolic enzymes*
Proprietary blend of 10 active whole-food enzymes
Contains the doTERRA tummy tamer blend of Peppermint, Ginger, and Caraway Seed
Sodium lauryl sulfate-free HPMC vegetable capsules
Safe and effective
---
Day 7 – Breathe: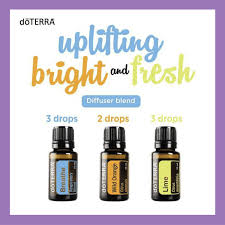 TIPS:
+This is a wonderful oil to use in a diffuser. If you google breathe diffuser blends, a ton will come up! Mix it up and have a list of recipes on hand for a variety experience.
+Add Breathe to temples to improve/ support cognitive function. (Brain Fog)
+DIY recipe for chest rub with Breathe and Copaiba.  This would be a great addition as a preventative and also to have ready for the upcoming season.

Dr. Axe has a wonderful recipe on making a Vapor Rub! Make some up to always have on hand!
https://draxe.com/homemade-vapor-rub/
---
If you do not yet have your own doTERRA Wellness Advocate Account yet, it is time to get started. Click here for more information!
---
---
*These statements have not been evaluated by the Food and Drug Administration. This product is not intended to diagnose, treat, cure, or prevent any disease.