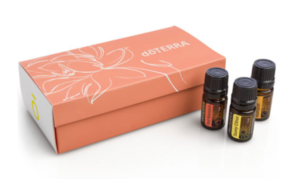 Mother's Day Trio
(LIMITED TIME OFFER)
The beautiful 3 oil set for that came out as a limited time special for Mother's Day in May 2017, the set included 3 amazing Citrus oils, Red Mandarin, Kumquat and Sunny Citrus blend. I did not realize the beauty in these oils and the benefits that they provide until much later and thought I would post some of my research. I have noticed that over time, I have lost information on certain oils so I am wanting to capture information here on my blog to share with others.
Excerpts by Susan Lawton/May 2017 podcast as well as doTERRA oil science blog. The medical contributor is referenced.
---
Red Mandarin

This oil is cold pressed from the peel. Even though from citrus, Red mandarin does NOT have photosensitive properties, which for that reason, you can use it to make a wonderful lotion.
Contributed by Damian Rodriguez, DHSc, MS
Known as the sweetest of all citrus fruits, the red mandarin from the Citrus reticulata tree is usually peeled and eaten whole or used in salads and desserts, but its rind also contains a wonderfully unique essential oil. Although it is similar to the tangerine—in fact, mandarins are often referred to as tangerines interchangeably in some parts of the world—the fruit and the essential oil of Red Mandarin is quite unique in the citrus world. Whether experienced aromatically, topically, or internally, Red Mandarin essential oil can provide a multitude of benefits.

The biological and physiological activity of essential oils comes down to their chemistry. Red Mandarin's composition is much like most other citrus oils in its high concentration of limonene, but there are a few twists. Depending on harvesting conditions, approximately 65% to 75% of Red Mandarin's composition is the cleansing and uplifting monoterpene known as limonene, but it is also rich in an aromatic compound often associated with Cumin, Black Pepper, and Ginger essential oils: gamma-Terpinene (up to 14%).1 Research has shown that gamma-Terpinene may have cleansing properties.2 The concentration of gamma-Terpinene adds to the already potent surface and skin-cleansing abilities of limonene. Whether you are looking for a mild skin toner and clarifier, a great addition to your DIY all-purpose cleaner, or something a little different that can uplift your mood when diffused, Red Mandarin is a great choice.

With its concentration of gamma-Terpinene, Red Mandarin is more than just another sweet-smelling citrus essential oil. Try combining a few drops with your favorite skin care products and experiment with its cleansing power around the home.

Benefits of Red Mandarin:
it is good for skin whether dry or oily.

It purifies the digestive system and the Air…

Stubborn parasites – for slight digestive issues after travel to 3rd world countries…

Make tea, it has a great way o f escorting the parasites out, use with fennel too.

Helps with self trust issues

Calm cooling – use to diffuse for PTSD. Use for people coming out of surgery who are coming off pain pills. Transition to getting back to yourself.

Antidepressant, counteracts nausea and vomiting. Appetite stimulant – put on big toe

Great gas relief from eating late, or something you don't usually eat.

Cellulite reduction – use slim & sassy but add red mandarin to that group. Helps with apoptosis and cell size reduction.

Decongestant – for nose, for lymphatic system

Emotional support (people have trouble digesting news, changing in their lives) Red mandarin promotes self trust. Trusting yourself means being quite sometimes, because people around you are not alway ready to go where you are.
"I'm capable of clear thinking in spite of everything that is going on around.."
Susan also suggests, "Add a little to your toner. Add different oils all the time. You can state what it is for. If you talk to your cells, you will feel better."
WATER RETENTION RECIPE:
Recipe Type
:
Essential Oil Protocols for Wellness
Author:
Ingredients
3 drops of Red Mandarin
4 drops of Geranium
4 drops of Petitgrain
one tablespoon FCO
……You can double the ratios for example if making a spray bottle or roller bottle.
Instructions
Apply topically from ankles up to back of knees, Drink warm water, and 20 minute a walk a day. You can double the ratios for example if making a spray bottle or roller bottle. While doing this, drink lots of water, whenever you retain fluid, unless you have a kidney or heart issue, usually you are just dehydrated and your body needs to store water.
_______________________________________________________________________
SUNNY CITRUS BLEND
Contributed by Dr. Damian Rodriguez, DHSc, MS
Uniting the benefits of two of the most popular citrus oils (Grapefruit and Wild Orange) and energizing Peppermint, Sunny Citrus is the latest doTERRA® proprietary CPTG® essential oil. Along with its uplifting scent, whether used aromatically or topically, Sunny Citrus provides a number of different benefits for your health and around the home.
Due to their rich concentrations of the monoterpene limonene, citrus essential oils are known for their cleansing properties and ability to positively influence mood.1, 2 The addition of Peppermint oil provides a minty top note that supercharges these benefits. Aside from the countless studies that have shown limonene-containing essential oils may have positive effects on mood, clinical research suggests that the aroma of peppermint essential oil is arousing and uplifting.3-5 Whether diffusing throughout the day or directly inhaling before heading out for a hike, Sunny Citrus is the perfect aromatic complement to your happy and active lifestyle.
Furthermore, Grapefruit and Wild Orange provide powerful cleansing benefits, both around the home and for the skin.  Experimental research suggests that menthol, one of Peppermint's primary chemical constituents, has surface cleansing properties as well.8, 9 Additional experimental research suggests that topical use of peppermint essential oil may keep the skin looking clear and may reduce the appearance of blemishes.10 Before going to bed, try adding a few drops of Sunny Citrus to your skin moisturizer to support, clean, soothe, and protect the skin, or use it directly on household surfaces to increase the cleansing power of any product and to leave a sweet, minty aroma in your home.
In a perfectly balanced combination of citrus and mint, Sunny Citrus provides countless aromatic and topical benefits. Grab a bottle to energize and uplift your mood and your home.
Benefits of sunny citrus:
add to your skin moisturizer to support, clean, soothe and protect the skin
make a home cleaning spray by adding to a water spray bottle
uplifting, energizing
---
KUMQUAT
Contributed by Damian Rodriguez, DHSc, MS
The Fortunella japonica tree produces a small fruit that resembles the conventional orange, but is the size of a large olive. Although the essential oil cold pressed from the rind of its fruit is composed primarily of cyclic monoterpene limonene, as the research suggests, Kumquat is quite distinct among citrus oils.
Depending on the harvesting conditions, Kumquat essential oil is anywhere from 70%-95% limonene, but of its other 105 known constituents, 46 have not been found in any other essential oil.1 So, while Kumquat does offer the same surface cleansing and mood uplifting benefits of its limonene-containing counterparts, many of its properties are all its own. One study showed that, along with providing a pleasant citrus taste like many other citrus fruits, Kumquat oil may offers a boost of antioxidants when taken internally.2 With low levels of monoterpene myrcene, Kumquat may have a calming effect when inhaled.3 With powerful cleansing properties, Kumquat may have applications in skin and hair health along with being great for use on your kitchen counters.4,5 These added skin benefits may be due to low levels of alpha-Pinene, which is found in higher concentrations in essential oils known for supporting skin health, such as Frankincense and Helichrysum.
Whether used aromatically, topically, or internally, Kumquat offers many of the benefits associated with citrus essential oils, but with a twist. With its wide array of uses, doTERRA® CPTG® Kumquat essential oil is the perfect gift for every mother.
---
Susan mentions,  "Helps with a new perspective – clears the mind. You are empowered, this life is your life."
It will support cardiovascular, nervous system

Supports the body regarding the heart and internal organs

Uplifts mood, 

Refreshes mind & 

Revitalizes energy

Aromatic, topical and internal cleansers

Try for making cleaners for the home

Kumquat helps with diabetic resistance
It is candida retardant
Grief support and getting unstuck, Kumquat – moves you through grief. You must feel the feeling, you cannot bury them or deny them.  But it helps you see while in motion, I am hole and able to digest all that is going on around me Kumquat helps you stay in a positive place and draws that to you.
As Susan goes on in her podcast, she talks about DDR PRIME and Kumquat. Think in terms of cell repair oxygen delivery. We know how well with the citrus oils, Kumquat can support the cells and how they behave. And we know how wonderful DDR PRIME IS!  They work very well together. Make a blend and state clearly "this scar is on it's way out" etc.
Antimicrobial, antioxidant etc., used historically as a food preservative. Anti-carcinogen because of high limonene pinene content. All go around and slow cancer growth. If we think in terms of our harsh self judgement as making little cancer seeds; if you apply oils, and make statements of positive intention, your motivating to 2 things to work together really well. You are motivating to knockout disease in your body because you feel free to trust yourself, and know out what you want. Put even the least amount of effort forward, apply oil consistently and drink water. Inflammation can sometimes mean internal congestion so work with the oils and add water to clear it and state your intent. If will free ideas and let them flow. For creative flow, you are augment and recapture creativity.
FEELING STUCK RECIPE: in a 10 ml roller bottle:
[b]Feeling Stuck[/b]
Recipe Type
:
Roller Bottle
Author:
add to a 10ml roller bottle and top off with FCO
Ingredients
20 drops kumquat
20 drops peppermint
5 drops cinnamon
Notes
DISCLAIMER: This information provides benefits and uses of essential oils. It is not provided in order to diagnose, prescribe or treat any disease, illness or injured condition of the body. This information is in no way intended as a substitute for medical counseling. Anyone with a disease, illness, injury or medical condition should consult a qualified healthcare professional.