Essential Oils For Travel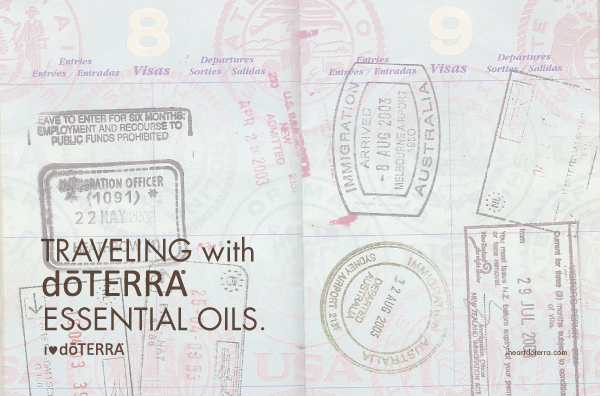 Traveling this time of year (or really anytime) is nerve racking and the atmosphere of travel lends itself to all kinds of germs and other things that can cause you not to feel your best. And who wants to be sick during the holidays?Essential oils are a great thing to have with you. You can avoid the need to look for an unfamiliar pharmacy and medicines. You'll save time & money and feel confident in your ability to recover quickly and get back to your vacation.
Create a travel oil pack for yourself and carry it with you. I have one I keep in my purse and use it all the time. If you are traveling by air, you can either check them in your luggage, or make sure the combined amount is under the 3 oz. limit and put it in your TSA approved quart zip bag and send it through security.
My top suggested Essential oils for your travel kit are:
A Travel Key Chain, that has these oils:
OnGuard – immune booster
Melaleuca – calms minor skin irritations
balance – provided a sense of balance
breathe – opens airways
Lime – makes for great water flavoring (or any other citrus oil)
TerraShield-repels bugs
Lavender – soothes skin after a day in the sun
Fractionated coconut oil – dilutes oils
Also travel with Peppermint beadlets, for a fresh pop in your mouth to help freshen breath, and perk you up!
OnGuard Toothpaste!  this is a must, once you start using it you can't use anything else!
Doterra lip balm, hydrate those chapped lips.
Deep Blue sample packets, help from sleeping in a strange bed, and carrying the luggage.
If you have room for more:
Ginger, Oregano, Purification Blend, Tension Blend, Chamomile, Calming Blend, Uplifting Blend, Massage Blend, Wild Orange, Monthly Blend.
You can find some great travel kits at from your mydoterra.com as the key chain pack, and bigger ones are available on AromaTools and My Oil Business.
Some of the most common issues people have when traveling/vacationing and oils to combat them are:
Sunburn– Lavender is so amazing for a sunburn. You can rub it on neat or add it to a carrier. For a cooling effect you can make a spray bottle with a couple drops of lavender & a drop of peppermint. The lavender will facilitate healing and the peppermint will cool.
Bug Bites– Lavender again is soothing to bug bites. You can also try a purification blend to help the itchiness.
Insect Repellent– Repellent blend is an amazing repellent. Use neat or create a mini spray bottle. You can pack the empty spray bottle in your carry on and fill it up when you get to your location.
Motion Sickness– Peppermint and Ginger will help. You can rub them around your feet, temples, & wrists or inhale from the bottle.
Indigestion– Digestion blend to the rescue. Add to water and drink, or lick a drop off the back of your hand. You can also use this topically by rubbing it on your feet and stomach.
Jet Lag– Try a combination of Peppermint and Lavender rubbed into your temples and feet. Another great blend is Elevation.
Throat discomfort or irritated throat– Help maintain healthy a throat with Protection Blend, Oregano, Melaleuca, & Lemon together in a capsule. You can also keep a small spray bottle with Protection blend and water. Spray it in your throat when you start to feel the itchy, sore feeling.
Tired Legs & Feet– Peppermint, Massage blend, soothing blend, would all be great to perk up tired legs and feet. Rub on topically with a carrier if you have sensitivity.
Disinfecting– Spray your mouth with Protection blend before and during your flight. Or add a drop of Protection Blend or Purification blend to a cotton ball and seal in a zip bag. Open and breathe in during your flight.
You can also make a Lemon oil or Protection blend spritz to purify tray tables, fixtures, hands, etc.
Lemon oil is also a great oil to add to water in your travels to help purify.
Bring a battery operated diffuser for your hotel room. Try diffusing Purify or other favorite oil.
Nerves & Stress– Lavender, Chamomile, Calming blend would all be great to bring for pre-flight jitters, stressful situations, trouble falling asleep.
Seasonal Threats/Congestion– Respiratory blend is a must to have on hand while traveling. It's great for maintaining healthy respiratory function. Apply to the chest and bridge of nose or inhale directly from the bottle.
Also, Lemon, Lavender, & Peppermint combined together make a great allergy treatment. Just add 2 drops each to water and swish and swallow.
Overheating/Heat Stroke– Peppermint oil is great for instant cooling. Add a drop to water and sip throughout the day or make a spray bottle and mist yourself often to keep from becoming overheated.
Wounds & Skin Rashes– Melaleuca oil and Lavender together make a great combination for skin. Use neat, mix together with a carrier, or create a spray.
Head or neck tension – Tension blend is amazing for quick headache relief. You can also try Peppermint, Frankincense, or Lavender.
Please note: I am reposting in part of this blog from from :  http://www.iheartoils.com/2012/08/14/essential-oils-for-travel/
---
*These statements have not been approved by the Food and Drug Administration. dōTERRA products are not intended to diagnose, treat, cure or prevent disease. Pregnant or lactating women and persons with known medical conditions should consult a physician prior to the use of any dōTERRA product. The statements shared from our Blog, Facebook page, Email Newsletter are the personal opinion of independent persons and do not necessarily reflect the views or opinions of dōTERRA International.